CBI

---
Larger versions of the images displayed on this page will open in their own window because of the picture size involved.
---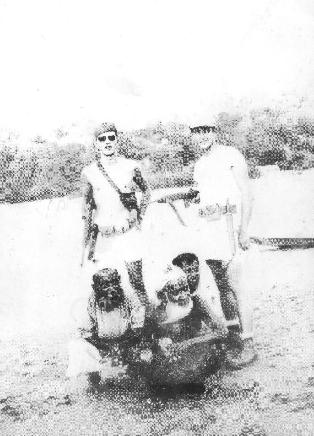 Andrew T. Popalis (left rear) in the southern part of India, known as Cok's Bazaar, just off the coast of the Bay of Bengal. The year is 1944 and they are looking for a downed aircraft and any survivors. This group of Indians lead them to a village where they found a downed airman with a broken leg. Click on the image above for a larger version. The airman (Sgt. Curran) explained that the C-46 experienced engine trouble and was ditched in the Bay of Bengal. Since this mission, Andrew has been unable to locate Sergeant Curran, 4th Combat Cargo, 13th Combat Squadron. If you have any information about or may know Sargeant Curran please send us an email.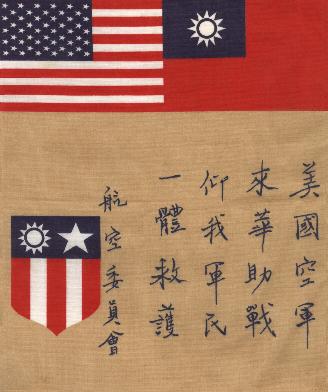 A "blood chit" was worn by all American Airmen in the China-Burma-India theater. This message was worn on the back of a flight jacket. In the event an American flyer was shot down the "blood chit" would advise those on the ground that; "this man is a friend of the Chinese people". Aside from the Chinese writing, the American and Chinese flags are displayed, along with the CBI emblem.
---
Copyright © 2000 - 2014 by Andrew J. Popalis
All Rights Reserved
Privacy Policy