Popalis Family History


The History of Shenandoah, Pennsylvania
and Shenandoah's Lithuanian Community

---
Source materials for this page included; "The Path of Progress, Shenandoah, Pa. Centennial" -1966, "Accomplishments of Lithuanian Catholics in America" -1943, "The Lithuanian Catholic Parish of St. George, Shenandoah, Pa." Rev. Joseph A. Karalius -1941, and "Shenandoah St. George Lithuanian Parish" Dr. Antanas Kucas -1968.
---
The land that Shenandoah now occupies belonged to the Leni-Lenape Indians. Shenandoah, is a Native American word meaning "Sprucy Stream". Another popular interpretation is "Daughter of the Stars", although this is not beleived to be accurate. Shenandoah's earliest settler was a farmer named Peter Kehley, he established a residence between 1820 and 1835. It was Kehley who discovered a piece of coal in a nearby stream. After obtaining financial assistance, he began a crude mining operation. He never uncovered any substantial amount of coal and died in 1860.

At the outbreak of the Civil War the demand for coal was greater than ever, by 1862 the town was laid out and the Shenandoah City Colliery was opened. Railroad facilities soon followed, and the development of the territory began in earnest. Soon the Kehley Run, Plank Ridge, Kohinoor, Turkey Run, and Indian Ridge collieries were opened. New residents looking for work began to settle within the town of Shenandoah City, the "City" never really caught on and was later dropped.

The discovery of anthracite coal in Pennsylvania and the promise of employment attracted many Lithuanian immigrants to Schuylkill County. These immigrants would flock to towns like Pottsville, Minersville, Shamokin, Mahanoy City and Shenandoah. Laboring in the mines was dangerous, backbreaking, dirty work. This New York Times newspaper article, in PDF format, dated January 22, 1886 shows just how dangerous anthracite coal mining was. A day in the mines lasted ten hours, and the average pay was twenty-five cents an hour, which was good compared to other industries. Begining in the mid 19th century, Lithuanian immigrants established a home in Pennsylvania's Shenandoah Valley. These Lithuanians formed a tight knit community in this small mining town. The town began to pulse with a vibrant collection of cultures, these people would experience good times and bad, together. The booming economy fueled quick population growth, and tragedies like the Fire of 1883 would seem to tear it down just as quickly. New York Times articles about the fire dated November 13, 1883 and November 14, 1883 are available for viewing in PDF format.

Lithuanians first arrived in Shenandoah during the year 1869. These Lithuanian residents were eager to establish a parish, so in 1872 they banded together, with some new Polish arrivals, to form The Society of St. Casimir. With the help of Father Strupinskas, the first Lithuanian priest in America, St. Casimir's church became the first church in America financed and built solely through contributions from Lithuanians. However through an error, this church was registered as a Polish Catholic church. Father Strupinskas never bothered to correct the error and years later was replaced by a Polish priest. (In 1892 Father Strupinskas was buried in Old St. George cemetery.) Escalating tensions would eventually lead to the Society of St. Casimir changing its name to The St. George Beneficial Society. These immigrants then did what may have seemed impossible to many; they obtained permission to form a new parish and proceeded to build a second church, St. George's.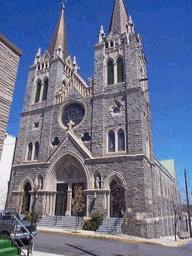 St. George's
Roman Catholic Church

St. George's prospered and the growth of the parish mirrored the growth of its town. Shenandoah became such a draw for immigrants who needed work that the town's population grew rapidly. Entire families lived in cellars because of the housing shortage. Shenandoah was even listed in "Ripley's Believe It or Not" as the most congested square mile in the United States. From 1915 through the mid 1920's the town's population was in excess of 30,000.

Lithuanians made considerable contributions to their new home, as far back as 1898 a survey found the following Lithuanian owned businesses; 59 Taverns, 17 Stores, 5 Meat Markets, 4 Tailors, 8 Cobblers, 3 Barbers, 1 Blacksmith, 5 Morticians, 5 Livery Stables, and 2 Printers. Lithuanians served their fellow citizens as politicians, for forty-two years the office of Mayor was held by men of Lithuanian descent. These immigrants established Citizens Clubs and Beneficial Societies. They created schools, for their children's education. In 1884, the Shenandoah Lithuanians formed the first Lithuanian Band in the United States.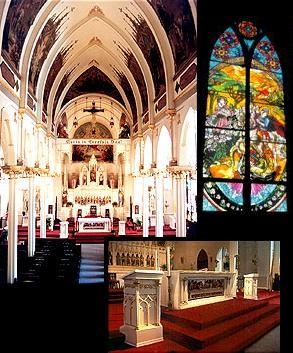 Church Interior View
The altar, and a sample of St. George's new stained glass.
Photo courtesy of Mezalick Design Studio.

Of course Lithuanians made up only a portion of the diverse population settling in Shenandoah. Other nationalities included; Polish, Italian, Syrian, Chinese, German, English, Irish, Welsh, Slovak, Hungarian, Greek, and Russian. Of all of these it was the Irish who earned a reputation as no-nonsense defenders of workers rights in the coal region. A group of Irish miners known as the Molly Maguires would strike a blow for organized workers in the pre-union coal mines of Pennsylvania. Violence and Shenandoah are both central to the story of the Molly Maguires. An undercover Pinkerton detective was sent to infiltrate this illegal organiazation. Detective James McParland went to Shenandoah in February, 1874, and found it to be the stronghold of the Mollies Maguires. He made Shenandoah his headquarters during his entire investigation in the coal region. The popular magazine of its day, McClure's, reported that story in detail. To read McClure's magazine article on the Molly Maguires from 1894, CLICK HERE.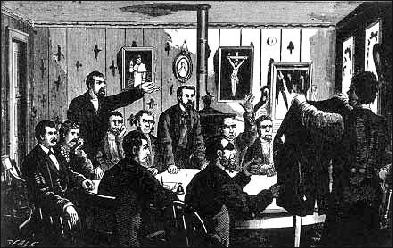 McParland Infiltrates The Molly Maguires
This picture illustrates Allan Pinkerton's account of his agency's infiltration of the Molly Maguires.
The Molly Maguires were convicted in 1875 and shortly thereafter hung. However, crude working conditions and unfair labor practices would continue to stir unrest in the community of Shenandoah. Strikes would take place in the region throughout the last two decades of the 19th century. In 1888 a series of confrontations between miners and the "Coal & Iron Police" drew a considerable amount of national attention, putting Shenandoah at the forefront in the fight for worker's rights. Three New York Times articles, in PDF format, are available here for your viewing; February 7, 1888, February 10, 1888, and February 13, 1888. These violent altercations would come to a head in 1902, and the "Bloody First Riot" would leave its mark on Shenandoah and the Lithuanian community. To read, historian, Jay Zane's article, "The Bloody First", CLICK HERE. Three New York Times articles concerning the Bloody First Riot, July 31, 1902, August 7, 1902 and August 8, 1902, can be viewed in PDF format.
In 1911, Schuylkill County authorized a special publication, in honor of its centenial. This history of the county described the boroughs as they appeared when the story was published. To read the Shenandoah section of this historic report CLICK HERE.
The first half of the 20th century was a golden period in Shenandoah history. The borough was a leader in anthracite coal production. Shenandoah gave birth to outstanding athletes and sport teams, like the Shenandoah Pros, a semi-pro football team. The Pros played the NFL's Portsmouth Spartans(Detroit Lions) to a 7 - 7 tie in 1933. The town was home to a number of semi-pro football teams like the Red Sox, Yellowjackets and Presidents. Shenandoah's greatest gridiron star was Frank Racis. To read "RACIS THE GREAT", as it appeared in "The Path of Progress, Shenandoah, Pa. Centennial" published in 1966, CLICK HERE.
St. George's parish had one of the premiere baseball teams of the North Schuylkill League. In 1927 they played the Philadelphia Athletics in a memorable game. The Athletics boasted talent like; Jimmy Foxx, Eddie Collins, and Ty Cobb. St. George's team of local talent played the A's hard, but in the end the Athletics won 9 - 4.
However Shenandoah was best known not for an athlete, but for two musicians, Jimmy and Tommy Dorsey. These Shenandoah boys were known around the world, and their orchestras performed some of the most popular big band & jazz music of their day. All of this talent and the activity of a busy, overcrowded meltingpot provided a colorful foreground for the black landscape of Shenandoah's coal mines. If you would like to learn more about Tommy and Jimmy Dorsey click on the images below to read their pages in The New Grove Dictionary of Jazz or CLICK HERE to visit Popalis Family History's special Dorsey Brothers page.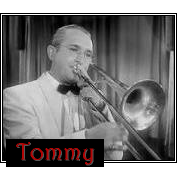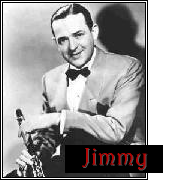 As the good old days gave way to the realities of the mid 20th century Shenandoah was instore for a change. In time the mines closed, and Shenandoah's population declined when jobs were not as plentiful. Today coal is no longer deep mined in the anthracite region. A few "strip mining" operations are all that's left of Schuylkill County's once powerful industry. Shenandoah and St. George's Church continued to evolve through the 20th century. The church survived fire and underwent renovation more than once, but it could not survive the modern day desire to consolidate parishes. The Diocese of Allentown tore down the historic church instead of allowing the repair of a granite facade. (More can be found on the St. George Lithuanian Church page.) Shenandoah survived the decline of it's principle industry. Some of the families who settled in Shenandoah still remain, this town has special meaning to them, as it did to their ancestors so long ago.

Visit the Shenandoah Gallery & Shenandoah Portraits.
---
Those interested in The Shenandoah Historical Society can contact them by email, their address is info@shenandoahpahistory.org or visit the web site.
---
---
Copyright © 2000 - 2014 by Andrew J. Popalis
All Rights Reserved
Privacy Policy