Popalis Family History


Early History
Ancestor Theory #1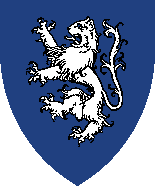 Poppen Family Crest

"During the Middle Ages, the name (Poppen) has been found in Bavaria, where the name was anciently associated with the tribal conflicts of the area. They declared allegiances to many nobles and princes of early history, lending their influence in struggles for power and status within the region. They branched into many houses, and their contributions were sought by many leaders in their search for power."

"Extensive research into the history and development of names has shown that the spelling of a surname varies greatly over time. The surname Popelis is no exception. In the mediaeval period, when very few people knew how to write, a name was often recorded in records or other official documents by scribes who wrote the name based on its sound. It was therefore possible that a name, depending on the local dialect, would even change between father and son. It was also common in Germany to add phrases to a name, in order to express something about a person?s place of origin, religious background, or even character. Among the many variations of the name Popelis we find Poppenberger, Poppenburger, Poppenhagen, Poppelman, Poppendorf, Popenhagen, Popenburger, Poppen, to name a few examples.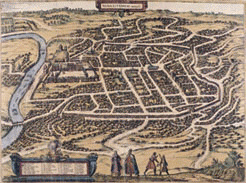 Vilnius
16th Century

The family prospered in this region (Bavaria) throughout the early Middle Ages. Later, from the mid 16th century, members of the family relocated to other parts of the continent in order to pursue their varied interests, sometimes in the military, sometimes the religious milieu, and sometimes into politics." -THE HALL OF NAMES INC.

This early history brings us to a rather lengthy period of time, which is unaccounted for. The family?s growth in Lithuania is not known at this time. No doubt that somewhere in Lithuania, documentation exists, waiting to be found.

Ancestor Theory #2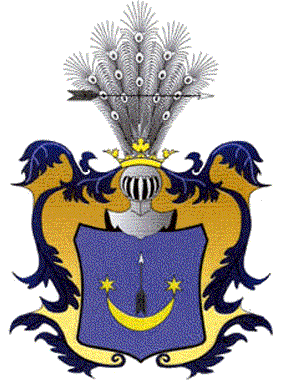 SAS Coat of Arms

The name Popiel appears in the first description of Poland and its history written in the XII century. Documentation shows the clan of Popiels descending from King Popiel, a IX century ruler of Poland. This recorded history later documents the XIV century appearance of family ancestor, Good Knight Popiel. Knight Popiel fought the Teutonic Order of knights at the battle of Gruenwald, also known as a battle of Tannenberg, winning King Jagiello's attention and gratitude. This gratitude manifested itself in a grant of immense lands near Drohobycz. Historic Popiels inhabited the region of Sanok and Drohobycz (Eastern Poland and Western Ukraine) in the XIV century.

In 1414 the King of Poland and the Great Duke of Lithuania confirmed Popiels' nobility by acknowledging his contribution at the Battle of Grunwald (Tannenberg). The oldest document found that related to these ancestors, is dated on July 21, 1427. The Knight Popiel and his immediate descendants used the coat of arms SAS. Many families of Ruthenian nobility used the coat of arms, SAS. Their point of origin was Galician Ruthenia. The Popiels of the XV century were Ruthenians, in later centuries the Popiels migrated to central Poland and Russia changing their nationality.

The Popiel clan was very large, even in the XVI century. Some Popiels spelled their name slightly different; POPIL is an example of this. The Ukrainian and Russian version of the name is spelled with Roman characters and appears as POPEL. In the XIX and XX centuries many Popiels settled in the United States from Galicia, Eastern Poland, and Russia, these families spelled their names POPIEL, POPEL, POPEIL and POPIL.

Jan Popiel confirmed that there were Popiel ancestors who immigrated to Lithuania, and it is possible that their name was changed or expanded upon to conform to the Lithuanian language. Because of the language barrier no further research could take place. We may never know if POPEL became POPELIS, but the possible connection to this historic family is intriguing.

Ancestor Theory #3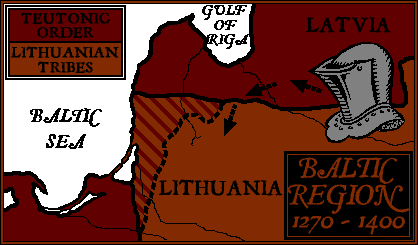 The Baltic Region
13th-14th Century

Latvia, the Baltic state north of Lithuania, was invaded by Knights of the Teutonic Order during the Germanic Crusade in the Middle Ages. Their goal was to Christianize the pagan areas around the Baltic Sea. It is possible that, during this invasion, a Latvian defender retreated into Lithuania. A serious injury or a plan to fight again would be reason for such a maneuver. But this alone would not be evidence of Latvian ancestry. Thanks to a corespondence with Juris Popelis of Latvia, it has been learned that his ancestors used the name "Pupols". "The word denotes the soft, gray flowers of a tree in Latvia. This tree grows on river banks and in wet places." Juris' grandfather supposes that the name was changed to "Popelis" over time. At this time Juris is only aware of Latvian ancestry, but it does seem possible that a "Pupols" in Latvia could be the forebearer of all Popelises today.

There is also further reason to suspect Latvian ancestry. During the Middle Ages The Grand Duchy of Lithuania was one of the largest states in Europe. This vast territory included, for a time, Latvia. In 1554, Protestantism was declared the state religion in Latvia, this weakened the defense capabilities of the medieval order state and allowed the Russians to loot vast territories of Latvia. To prevent Russian rule, local aristocrats, gave up their power to the Lithuanian-Polish state in 1561, for reasons of military protection. A PUPOLS ancestor is within reason, considering the possibility of war-time or deliberate peace-time emmigration.

Emergence in Slovakia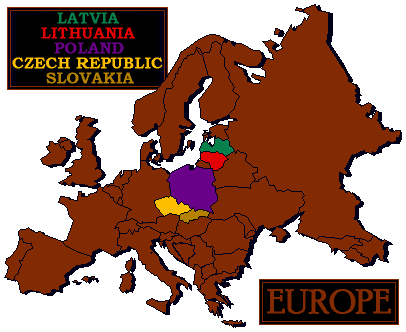 Map of Europe
The pattern of migration?
According to Michal Popelis, the Popelis name can be traced back to the first half of the 19th century in Slovakia. Jan Popelis, an orphan from the small village of Timoradza located in central Slovakia, came to the town of Banovce nad Bebravou. Michal tells us that many family members took root there. Sadly, around 1856 the entire family died in an epidemic, the only survivor was Jozef Popelis, a young boy of eight years. Jozef, with the help of the local clergy, learned woodworking as a trade. His handywork can still be seen til this day, two gateways to the local church in Banovce stand as a testament to his craftmanship. Jozef went on to prosper and reestablish the Popelis name in Slovakia. The Popelis family would grow and include tradesmen, shopkeepers, artists, and doctors. Today the majority of Popelis descendants live in the Capital of the Slovak Republic ? Bratislava, which is 70 kilometers from Vienna, the Capital of Austria.
It may appear that Bavarian origin is supported by the proximity of Germany and Austria to Slovakia and the Czech Republic. However Michal relates a story told to him by his father; "the first Popelis came into Slovakia from Poland", his father went on to say that they were the family of a rebelious nobelman, and were forced to flee Poland. With the Polish/Lithuanian history of the time this story points to Polish or Baltic origin, and adds new life to Ancestor Theories #2, and #3. Michal also adds that, " . . . my grandfather (Anton Popelis, 1881-1938) who wandered at the end of World War I, back from Russia across Poland, met there a noblewoman with the name Popielic. The root of our name ?Popel? means in Slavonic languages ?ash? (Czech-popel, Polish-popiel, Slovak-popol, Russian-pepel). On the other hand in Germanic language word ?popel? means something blamed as ?snotty-nose?. I have not found the word ?poepel? (or something like that) in present German dictionaries."
Lithuanian Family Today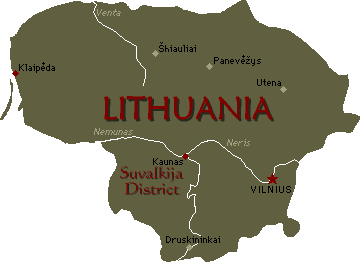 Map of Lithuania
The locations of Lithuanian Families.
Darius Pupelis from Lithuania has contacted us and provided information on where in Lithuania the surname Pupelis is found. There are 321 people with the surname Pupelis living in Lithuania:
Panevezhys District (Rokishkis is found in this District) - 131

Kaunas District - 46

Utena District - 24

Shiauliai District - 20

Klaipeda District - 17

"And others living in other places."

We can see from the details provided by Darius that the surname Pupelis is relatively common and found in a number of locations across Lithuania.

Darius has also provided information on the surnames Popelis and Papelis. "I have good news", after alot of work, "I found information about 3 people that live in Lithuania and their surname is Popelis."
Joseph Popelis lives on Medeinos Street 15-83, Vilnius.

Juozas Popelis lives on Kovo-11 Street 59-55, Kaunas.

Eduardas Popelis lives on Zirmunu Street 55-99, Vilnius.

"People with the surname "PAPELIS" live in Suvalkija District, Lazdijai District (Barchiai village,Avizhemiai village,Chirvoniai village,Druskininkai,Alytus)."

If anyone has more information on the Popelis, Pupelis, or Papelis families in Lithuania, please contact Popalis Family History and let us know.

Making a Home in America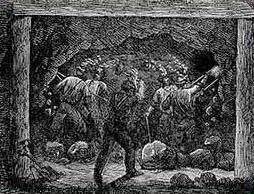 Miners at work
Andrew Popalis (Popelis) was born in 1867 in the Suvalkija* Province of Lithuania. He came to America sometime around 1886. Andrew married Mary Klemchesky (born 1869) in September of 1891. The marriage is believed to have taken place in Shenandoah, Pennsylvania. Andrew and Mary settled down in Shenandoah, most likely because of the growing Lithuanian community and the coal mining jobs available to immigrants.
Life in Pennsylvania's coal region was hard and working in the anthracite mines was even harder. The days were long and the wages did little to make up for the poor working conditions. Prejudice and discrimination were everyday realities for Lithuanian immigrants. Adjusting to this new world took time. One can only imagine what it must have been like for those who voyaged to America.
Despite all the hardship Andrew and Mary managed to raise a happy family. Their children included Peter, John, Joseph and Andrew. A strong religious conviction undoubtedly helped Andrew and Mary in raising their children, and at times of family tragedy. Three other children are known of; Anthony, who died as an infant, Adella and Adolph. It is not known how old Adella and Adolph were when they died.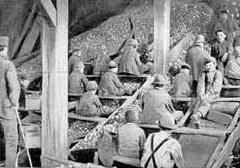 Breaker Boys
At the age of 38, Mary passed away, the year was 1911. Andrew lived on until February 5, 1938. Andrew and Mary's family stayed in Shenandoah. There was plenty of work in the mines and as time passed new opportunities would present themselves. Shenandoah was a very busy rapidly expanding town in the early part of the 20th century. By 1915 Shenandoah had a population in excess of 30,000. Entire families lived in cellars, because of the lack of housing. The crowded conditions placed the town in "Ripley's Believe it or Not", as the most congested square mile in the United States.
The Popalis boys followed their own paths. Peter went on to a career in the Navy, defending his country during World Wars I and II, and serving aboard the U.S.S. Arizona and U.S.S. Quincy. Andrew, John and Joseph managed to raise families in Shenandoah but sadly John died in a mining accident at the Knickerbocker Colliery. Despite tragedy all the Popalis brothers had children, with the exception of Peter, who never married. The Popalis family would continue to grow throughout the rest of the 20th century.
* Suvalkija: South-Western Lithuania, a land of fertile plains, the center of Lithuania's agricultural industry.
A big "thank you" goes out to Christine Popalis Vanhoenacker, who passed along information given to her by Joseph Popalis.
Research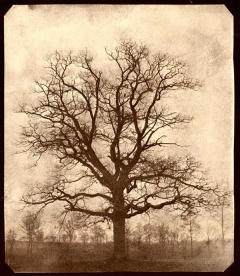 Popalis Family History has an ongoing project to collect and make available lineage information, this is called the Family Tree Project. Popalis Family History is also compiling burial information when it is made available. Both can be found by selecting the Family Tree button below. Also while researching our family's history an occasional mystery pops up. These questions awaiting an answer, and some interesting facts, can be found by selecting the Popalis Mysteries button.

---
Copyright © 2000 - 2014 by Andrew J. Popalis
All Rights Reserved
Privacy Policy