Popalis Family History


Monday, August 18, 1997
Pottsville Republican/Evening Herald
http://www.schuylkill.com

Mass promotes Ciszek sainthood
Canonization effort continues in honor of late Shenandoah pastor
James Quirk Jr.
Correspondent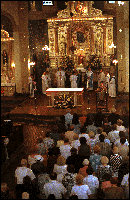 FRANCES GROSS O'KEEFE/Special Photo
St. Casimir's Church, Shenandoah, was filled for the 13th annual Father Ciszek Mass.

SHENANDOAH -- The effort continues to have the late Father Walter J. Ciszek considered for sainthood. Hundreds gathered for the 13th annual Celebration of the Life and Virtues of Father Ciszek Sunday at St. Casimir's Church. During the special Mass, performed by the Most Rev. Thomas J. Welsh, bishop of the Diocese of Allentown, Monsignor Anthony D. Muntone delivered a homily that spoke of Father Ciszek's hard determin-ation and "Polish stubbornness." Honored for his work toward the canonization was the Rev. John J. Levko, who is now in Rome and no longer involved in the effort. A plaque was accepted on his behalf by the Rev. Thomas F. Sable, co-postulator with Father Muntone. The Catholic Church is investigating claims of miracles from people who say Father Ciszek had something to do with them, Bishop Welsh said. It is a necessary part of establishing sainthood. "It's not easy trying to prove miracles, but we're trying," he said.

The Mass drew visitors from out of state, including Lillian M. DeFeo, White Plains, N.Y. She met Father Ciszek in the Bronx shortly after he was released from a Soviet prison in 1964. "He was a great man," DeFeo said. "I never met someone who was so Christ-like."

"We should be honored to have a man from this area to be considered for Sainthood," said Patricia M. Domalakes, Frackville. "It's representative of people living in this area." Muntone said that shortly after Father Ciszek was born on Nov. 4, 1904, he was a sickly infant; his parents wanted to baptize him quickly should he die. After getting the godparents of the infant together, Ciszek's parents took him to St. Casimir's and to St. Stanislaus to be baptized, but there was no pastor at either. They did find a pastor at St. George's Lithuanian Catholic Church, but the priest's slow manner in procedure prompted them to leave and try St. Casimir's one more time. "There was a pastor at St. Casimir's, and he was baptized in this church," Father Muntone explained. "The first sign of his determination was that he was not going to be baptized a Lithuanian."

Bishop Welsh also noted the recent elevation in title from reverend to monsignor for St. Casimir and St. Stanislaus pastor Edward W. Sarzynski. His efforts running both parishes, the Father Ciszek school and his part in the canonization earned him the honorary title, Bishop Welsh said.
---
Copyright © 2000 - 2014 by Andrew J. Popalis
All Rights Reserved
Privacy Policy