Popalis Family History


USA Survives Scare to Reach Men's Hoop Final
September 29, 2000 10:02 am EST

By Alan Crosby

SYDNEY, Australia (Reuters) - Defending champions the United States survived their biggest scare in 12 years narrowly defeating Lithuania 85-83 Friday to set up an Olympic men's basketball final against France.

The United States, who have not lost in Olympic competition since the semifinals of the 1988 Seoul Games, had an average margin of victory of 43.8 points in Barcelona, and 32.3 points in Atlanta.

But for the second time in a week, the Lithuanians battled the Americans down to the wire -- they lost by nine points in the preliminary round -- and could easily have won but guard Sarunas Jasikevicius missed an open three-point shot at the buzzer.

"In the situation we had at the end of the game, we had an historic chance to win. But as you saw, we lost that chance," said Lithuanian coach Jonas Kazlauskas.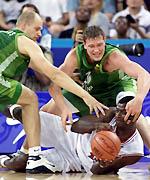 Saulius Stombergas and Darius Songaila
tie up USA's Antonio McDyess.(AP)
The Americans, which began sending NBA players to the competition in 1992 after losing in Seoul, finally got off to a quick start, jumping out to a 12 point halftime lead.
But Lithuania stormed back in the second half led by Jasikevicius, who outplayed two of the best defenders in the game in Jason Kidd and Gary Payton.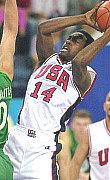 Gary Payton, who led the team
with 14 points, goes up for a shot.(AP)
The 24-year-old, who played U.S. college basketball but was not drafted by any NBA team, poured in 16 of his 27 points in the second half point and dished out four assists while committing no turnovers.
Trailing by one point with 10.8 seconds left, Lithuania fouled Kidd who hit only one of two foul shots to give Lithuania one last chance. Jasikevicius had an open three-point shot at the buzzer, but it fell far short.
"Lithuania were so good they had an opportunity to win it right at the end," said U.S. coach Rudy Tomjanovich.
---
Copyright © 2000 - 2014 by Andrew J. Popalis
All Rights Reserved
Privacy Policy