ENGLAND 1944

---
A larger version of the image displayed on this page will open in a new window because of the picture size involved.
---
This image has been declassified under the following NARA Authority: NND983062
This series of photos documents an important era in US military aviation history, especially activities of the US Air Force during World War II.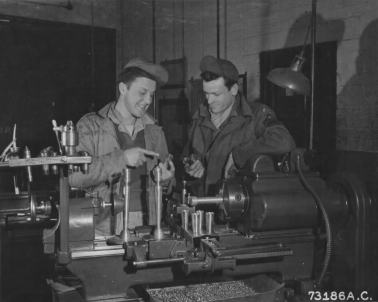 Gi Ingenuity Takes Strange Twists -- From Propeller Metal, Taken From Scrap Heaps, M/Sgt. Joseph B. Popalis Of Shenandoah, Pa., And M/Sgt. Earl E. Lippincott Of Mt. Holly, Nj., Made Two Candlesticks And The Wine Glasses Which Will Be Used During Church Services In The Chapel. Europe 1944.
---
Copyright © 2000 - 2014 by Andrew J. Popalis
All Rights Reserved
Privacy Policy