An unknown Shenandoah Minister around 1880. This portrait was taken at Keagey Studios on West Coal Street. To view a larger version click on the image above.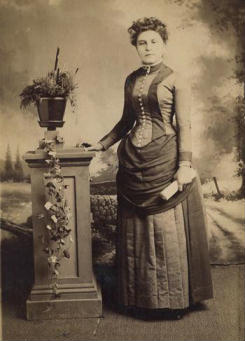 This picture dates from between 1883 & 1886. Lillie Eisenhardt of Shenandoah is shown posing for what is probably a graduation photo, note the scroll in her left hand.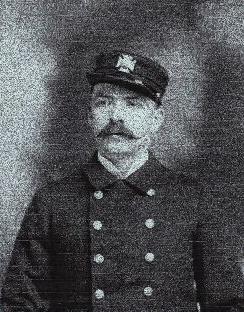 This is fireman Thomas Shapbell of the Rescue Hook and Ladder Fire Company #1.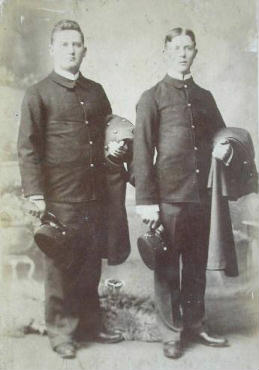 A pair of volunteer firemen from Shenandoah around the turn of the century.
An armed Spanish-American War soldier from the 12th Infantry. This soldier from Shenandoah had his picture taken in 1898 at Billinger Studios. To view a larger version in it's own window click the image above. For a close-up of the unknown soldier's face CLICK HERE.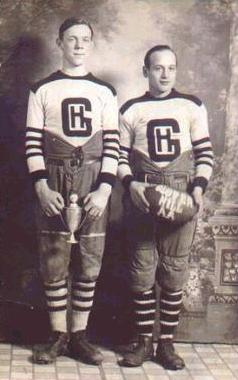 A happy pair of football players, members of the Glover Hill AA team, 1920's.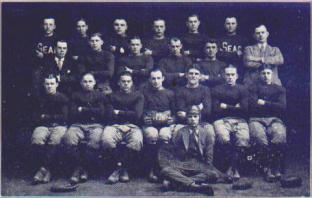 The South End football team during the 1925-26 season. The team included; Bill Walsh, Jack Stemmy, (Captain) Joe Simmens, Joe Duke, Ducie Ratdorf, A. A. Zack, Jake Bitler, Gyp Palin, Doc Hodgert, Leo Cousin, Add Faleski, Bull Covaleskie, Jack Rattl, Joe Connors, Toffy Satamy, Pete Hino, J. J. Walsh, Joe Leady, Zip Etkie, Bill Yodis, Leo Andrews & Ad. Chonskie (in no particular order & all are not present for the photo). For a larger image click on the picture above.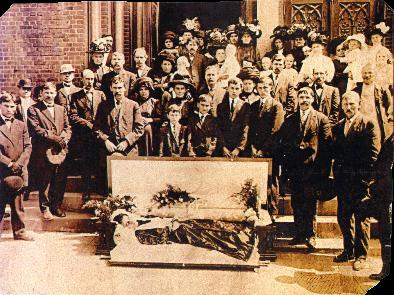 The funeral of Mary Popalis in 1911. This picture was taken in front of St. George's church. Husband, Andrew Popalis, can be seen near the head of the casket. Standing next to their father and behind their mother's coffin are Andrew, Joseph, John, and Peter. For a larger version, click on the image above, it will open in a new window.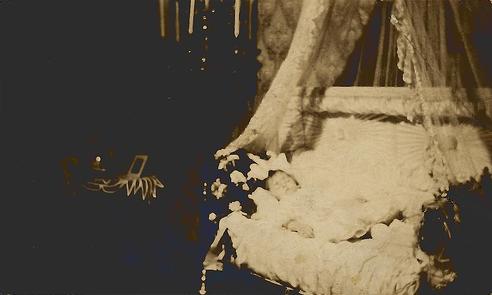 The deceased daughter of Joseph and Katherine Alex Zanecosky. Her name was Mary and she was born on May 18, 1909. She died on November 14, 1913 at the Jefferson Hospital, Philadelphia, PA of meningitis. Mary was buried in the family plot at Lady of Fatima Cemetery, Shenandoah Heights, PA.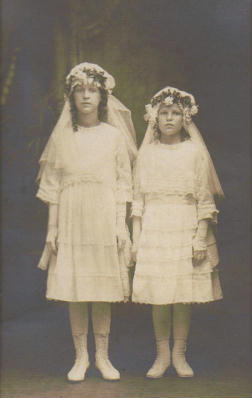 Agnes & Helen Cosluski pose for their first holy communion photo, around 1916. Helen would grow up and go on to marry Andrew John Popalis.
Andrew and Mary's boys. From left to right; Andrew, Joseph, John, and Peter around 1917. Click on the picture above to view a larger version. The image will open in a new window.
More Popalis Portraits can be found in the Popalis Gallery.